Honeyee Interview Pt 2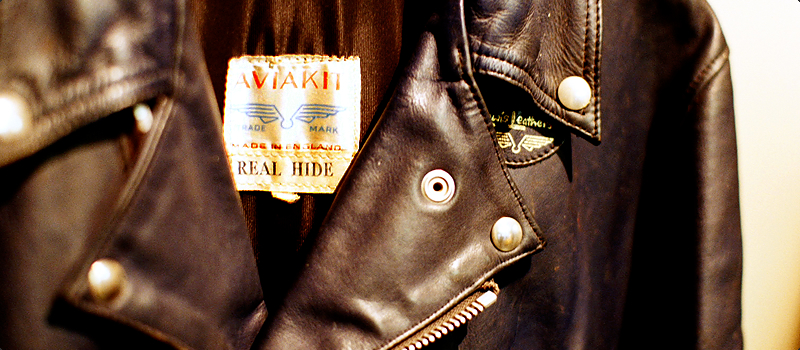 HONEYEE post a follow-up to their feature titled "The History of Lewis Leathers". Continuing where they left off, part 2 goes into detail behind what the brand represented through the 60s and 70s, its importance to the world of motorcycles and its heritage as a British-made brand.

Andrew Bunney (A): Were any groups of young people going to Lewis Leathers specifically for the name by the '60s?
Derek Harris (D): There were other labels around like Mascot, Pride And Clarke, but Lewis Leathers was always the jacket to have partly through clever marketing, but also through the quality and styling.
The main thing was the 59 Club), the motorcycle group set up by Father Bill Shergold. He was a motorcyclist, but he'd been watching all these kids dying trying to do 'the ton' and not understanding the danger they were in and not appreciating death. It was already called the 59 Club from 1959, but in 1962 he went up to the Ace Café and started handing out leaflets to come to this youth club in East London. They laughed at him a little bit, but they went on the first night and little by little more and more went and they would have dances. They would never try and force religion onto these kids, but they would council them and see if anything was wrong at home and they would work with the police and try and give these kids some sort of direction.
From late 1962, Lewis Leathers would go there, onto the stage in the church hall and take a load of jackets, badges and tape measures and measure up these kids – two weeks later they would come back with a jacket.
Father Shergold and Father Hullet would always dress head to toe in Lewis Leathers, boots, trousers, with the dog-collar underneath.
As Lewis Leathers were so closely involved with the 59 Club, they used to sponsor the Link Magazine: they put an advert in every issue. Basically, the look of young rockers from 62 onwards was Lewis Leathers. They could buy the jackets on instalments, and they became the jacket to have.
Prior to that we were already kitting out TT Racers, and the guys that rode around Mallory Park and Brands Hatch etc, and had been supplying riders in Brookland's from the 20s and 30s so there had always been this position of motorcycle racing clothing as well as street-riding.
A: Were there more people buying the Motorcycle jackets for fashion as time went on?
D: I think there was that in the '60s as well, you have The Beatles wearing biker jackets without riding motorcycles. Maybe they did in their spare-time, but they weren't famous for it. So there would have been people buying leather jackets to walk around the streets in to look cool – which they undoubtedly did. As Rock 'n' Roll waned a bit in the later 60s and early 70s it was more of a biker jacket again. There were some that were more casual like the Sportsman which was a lighter lined jacket that you would wear going to a race, Mallory Park or something, you might wear it just as a spectator. You could have team club colours. But in the '70s when the Ramones were wearing their leather jackets, the English Punks wanted to do the same, including the bands. The Clash went there, Brian James, Rat Scabies of The Damned, Steve Jones. Sid Vicious had an old Dominator jacket that he got off Viv Albertine of The Slits. The leather jacket was something to be seen in. You couldn't get American jackets here, there were very few of those about, but who needed it, you know? Lewis Leathers was quite nice because it gave the English Punks a different look to the American Punks, as well as the obvious trousers, creepers and all that kind of stuff.
A: What's the most popular item that you sell?
D: Currently it's the Cyclone. For years it was the Lightning, but the Cyclone jacket had been gathering pace for a while and has just about overtaken the Lightning in the last year or so. The vintage Cyclone is a pretty hard jacket to find, I guess not many people bought it. There are probably a few thousand worldwide but it was not as ubiquitous as the Lightning. Funnily enough the Cyclone has been picked up by one or two prominent guys in Japan who might have liked it because it wasn't worn by everyone else, which has then made it more sought after. It's a unique jacket. The waistband on it I've never seen on any other jacket. There is something on another jacket in Germany, but I think that came out after the Cyclone.
One of the special things about Lewis Leathers from a vintage seller's point of view is when people say to me that it was great selling Schott, Buco, those kind of things, but there was such a narrow variety of styles available. Lewis Leathers had a huge array of jackets from the 60s to, say, 74. Then you have colour-ways and then you have stripes, and it is quite amazing. I had a guy call me the other day and he said that he had a white Monza jacket that he bought it in 1973. He bought it in the Sheffield shop, and they said "Are you sure you want a white one?" He said "Yeah", the shop explained that "we generally only use white for racing leathers." But the customer stood fast, so they phoned up the London HQ and they said "A White Monza? No one's ever ordered one of those before". Anyway, he persevered with it. It's nice when you get a story with the jacket like that and I bought it from him. I must make sure I write it down and put it in the pocket…!
The whole interview can be seen at honeyee.