LEWIS LEATHERS ON THE DISCOVERY CHANNEL
Mike Seate runs a blog at: Cafe Racer TV as well as producing Cafe Racer magazine in the States, he recently wrote the following piece for the Cafe Racer Blog:
This week, we've been working feverishly to complete a few segments for the show that are near and dear to our hearts. The foremost is a piece we shot at London's Lewis Leathers, known as the oldest and most respected leather motorcycle gear manufacturer on the planet. That's no trite distinction as motorcycle gear has to be stylish, durable and capable of taking the sort of punishment that gives rodeo clowns nightmares just to survive, let alone for most of a century as has Lewis. The shop is run by Derek Harris, one of the coolest cats we had the pleasure of meeting during our extended world tour. Derek is a quiet, soft-spoken type but has more arcane and fascinating facts stored in his noggin than most. He can drop science on the history and development of motorcycle gear for hours and never grow boring, and his insights on how leather gear worn by early aviators evolved into the same motorcycle jackets we wear today is, well, you'll have to catch the TV show for his side of the story.
The main man who turns dead cows into protective gear at Lewis is Hiro, a Japanese expat who visited London a few years back to see a Rocker reunion rally and ended up not only staying on board, but landing his dream job, cutting patterns and designing jackets for Lewis Leathers. Hiro and Derek invited a few of their riding buddies to our shoot at their London headquarters and we were pretty thrilled to hear the pop and roar of a dozen of so vintage café bikes echoing off the sandstone walls as the pack approached.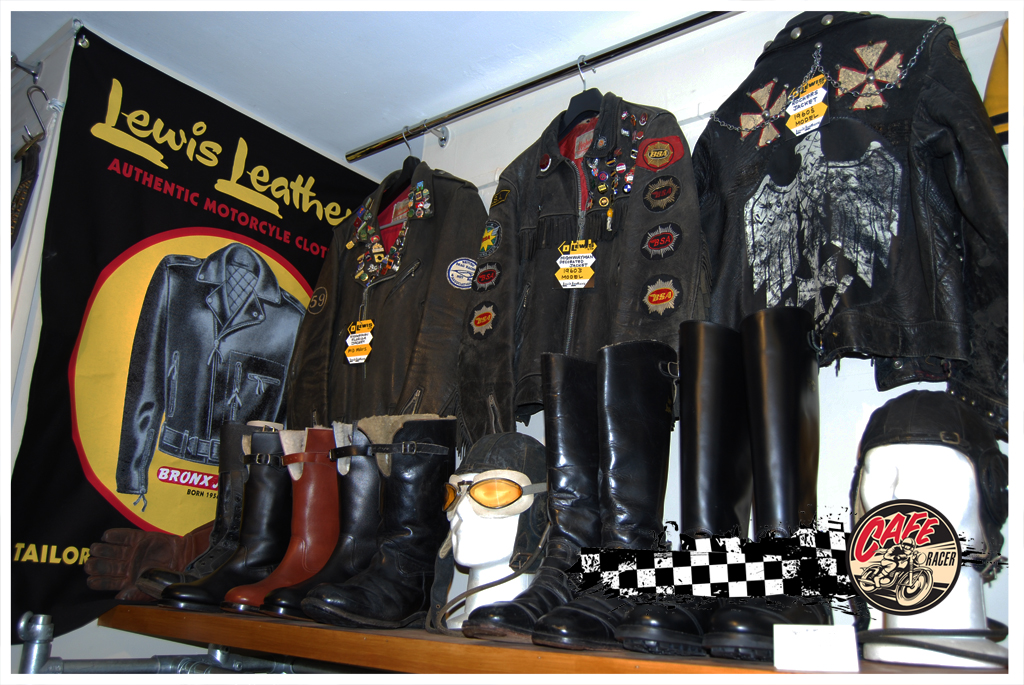 Lewis Leathers wall display:

Their presence turned out to be a cool addition to an already bitchin' story, and the fact that the skies decided to spend this spring day pissing down rain like it was late fall only added to the ambience. British bikes and English rain- what could be more right?
Well, what really ended up striking us after standing outside and getting drenched for a few hours was how the British rockers had no problem riding for hours on their classic café racer in an absolute downpour. It didn't seem to matter whether their machines had (typically) faulty Lucas electrics and beautiful, polished alloy bodywork or whether the breeze was enough to give Cold Miser a case of the chills; they just kept on keepin' on, weather be damned. Classic bikes here at home tend to be venerated, cloistered things of beauty, taken our and ridden rarely if at all and only in the most perfect weather conditions. We're frequently offered private viewings of classic and antique café racer collections by people who've seen the show, but to be honest, we nearly always decline. Why? Because it's a lot more fun, in my humble opinion, to check out a rider who's willing to give his rare, valuable classic a full day's run, in whatever weather, than stand around gawking, in a stuffy, museum-like setting, wondering why some fully-rebuilt and completely capable old bike isn't out being used in the manner the builders and designers intended..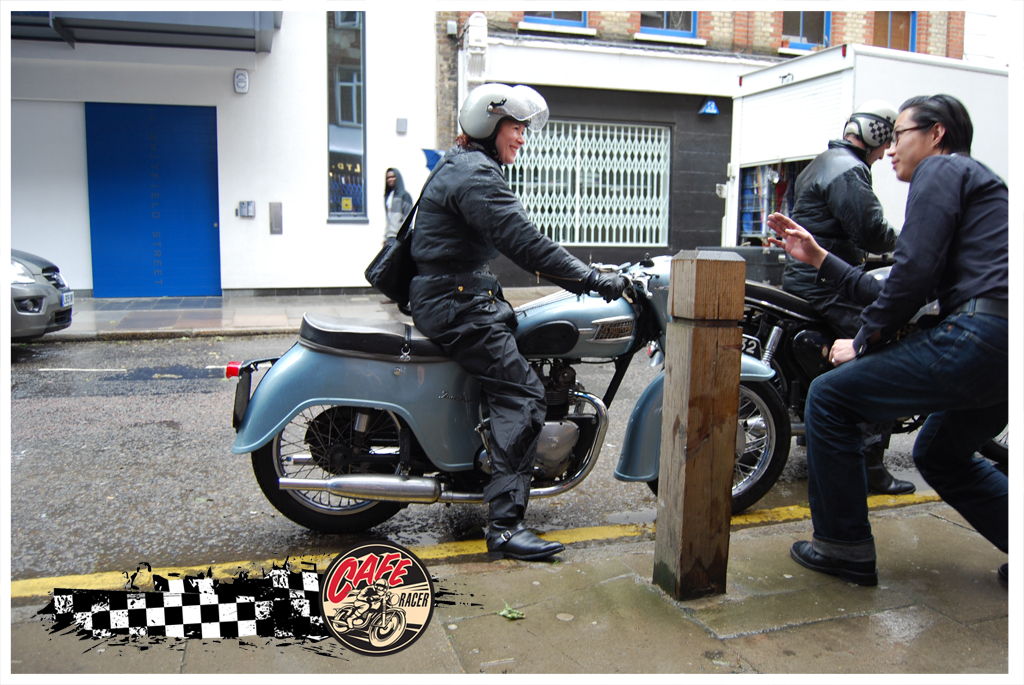 Sue and Hiro outside the shop:

One of the more seasoned riders, DJ The Rocketeer (he also works as a rockabilly DJ) explained that, yes, riding in the rain can be a pain, but with weather far wetter in the British Isles than it is here at home, motorcyclists learn early on that if they want to enjoy biking, they've got to learn wet-weather riding skills, Ma Nature aside. "It eventually always stops raining," he laughed, "even in London," water dripping from his helmet.
That sort of attitude is something we just don't see much of in the States, ad it's the reason why some of these UK riders, male of female, could proudly attest to clocking five, ten and sometimes even 20,000 miles per season aboard their classic bikes. I thought of them when the crew returned home and I found myself dying for a much-needed day in the saddle while the clouds were gathering outside my garage. Press on because the rain always stops, eventually, seems to be the lesson learned, classic bike or modern.
See the full article and Sean the Rocketeer's bike at Cafe Racer TV