Lewis Leathers in the Movies
As well as supplying top racers, motorcyclists, rock stars and their fans and many others, Lewis Leathers goods have also appeared in a variety of movies over the years.
One reason for this was that Lewis Leathers had a long standing connection with Berman & Nathans Theatrical Costumiers, who were based in Drury Lane W1. A locally-based friend of LL, who worked at Berman & Nathans during the early 70's, tells us that when Norman Jewison visited one day looking for leather trousers and motorcycle boots for his new movie, he directed them straight to Lewis Leathers. The film was ROLLERBALL (1st version) we checked the dvd and sure enough, James Caan and the cast were wearing Lewis 935 Leathers trousers, with their distinctive angled front pockets, many actors in the action scenes also wore 191 Motorway boots and leather belts from Lewis Leathers: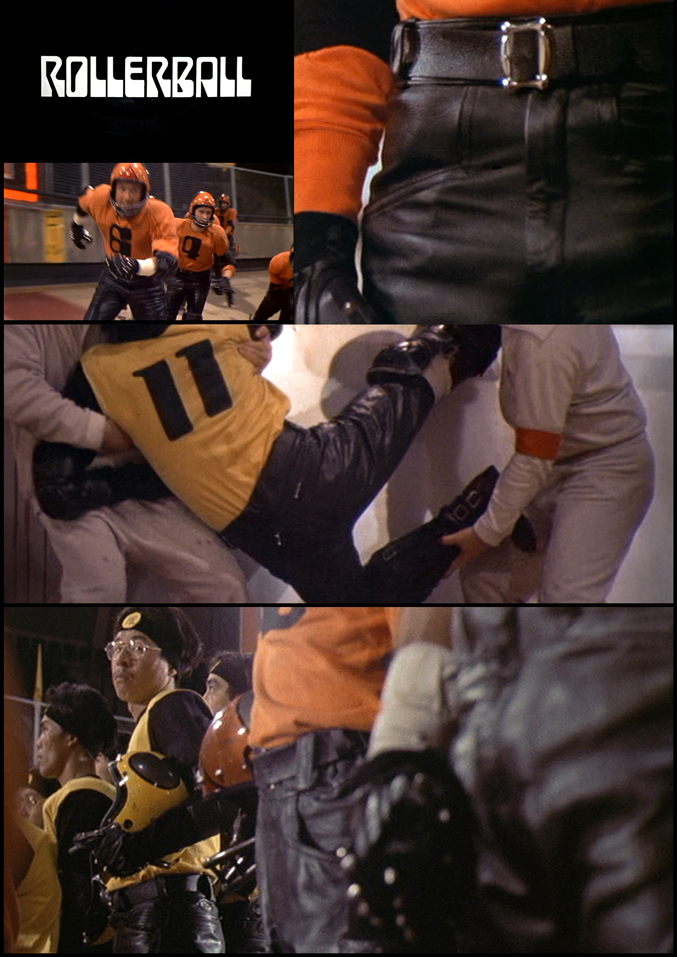 Speaking to an ex Accountant from Berman's a couple of years ago, he said that they often worked with Lewis Leathers when they wanted a custom made leather or just something from the shop stock, after relating the story above he laughed and said that Berman's missed out on their 15% commission due to the young staff member.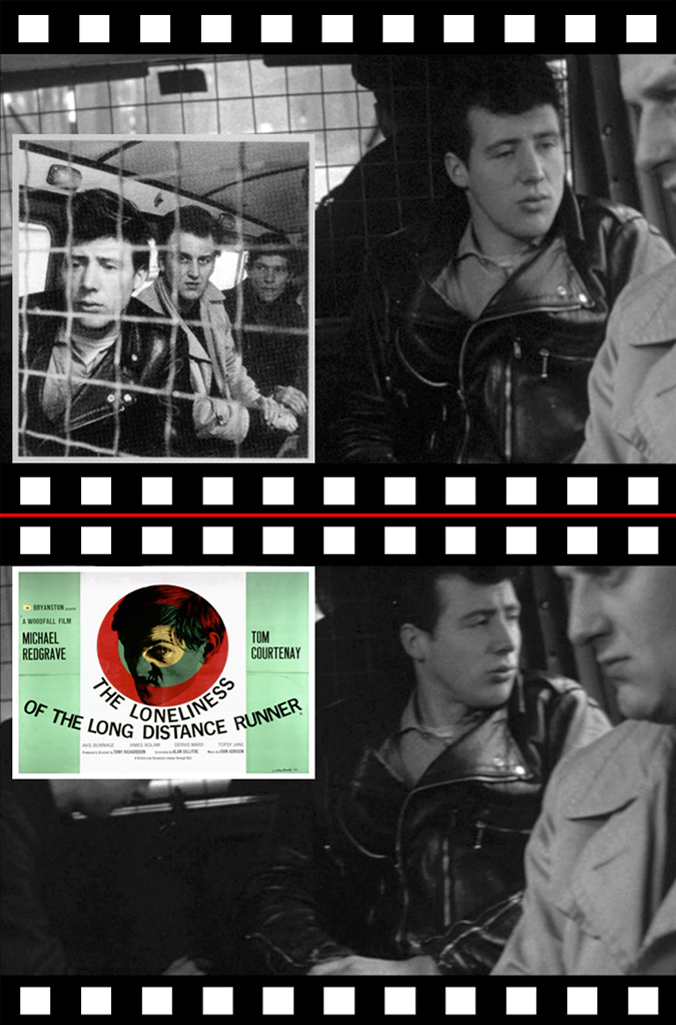 The above photos are from an early scene in Michael Redgrave's 1962 movie of Alan Sillitoe's Loneliness of the Long Distance Runner. Sitting to ex Mancunian Teddy Boy, John Thaw, an actor wears a Lewis Leathers Bronx jacket.
Fast forward to 1968 and the publicity shots below of Suzi Kendall show her in a Bronx jacket, the scene does not appear in the movie itself but looking closely at the Bronxt, it has an unusual mixture of zips on the pockets, two have flat pullers and one has a ball chain zip puller, is it a movie prop? -and is it the same jacket as featured in the Loneliness film?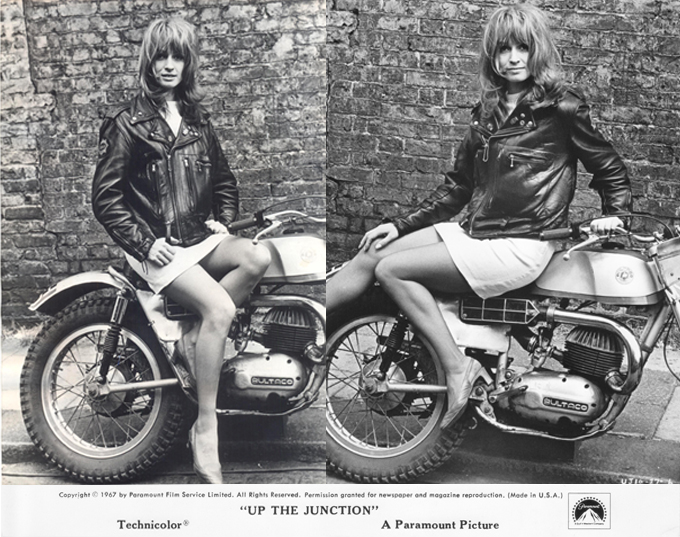 Above, Suzi Kendall in promo shots for Paramount Pictures "Up The Junction"
The Battle Of Britain was filmed in 1968 and released the following year, actor Manfred Reddemann playing Major Falke wears a Lewis Leathers jacket (along with the other Luftwaffe actors) in his scenes, the jacket was commissioned to resemble the type of leathers worn by German pilots in WW2. Purpose made flying jackets weren't issued to the Luftwaffe until late in the war, so pilots bought their own and, among other places, they could be purchased at La Samaritain department store in Paris during the occupation. The film jacket is often referred to as a Corsair but it more closely resembles a Dominator without the chest pockets.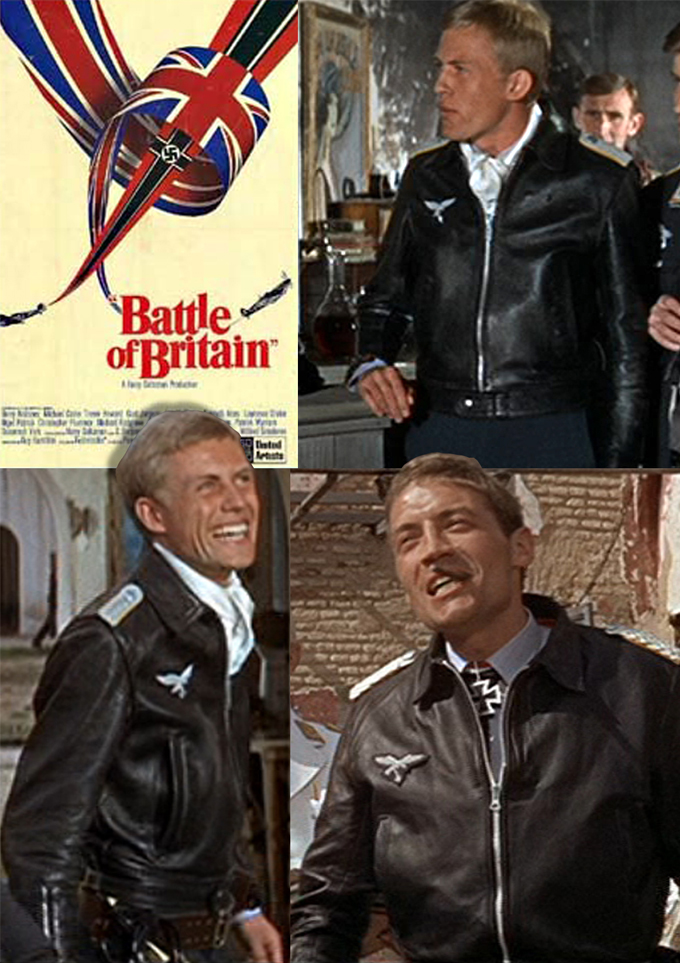 The McKenzie Break, directed by John Sturgis, was released in 1970 and chronicles the story of an attempted mass escape by German soldiers from a British POW camp. The movie also saw the return of a Lewis Leathers jacket from the Battle of Britain film, this time worn by one of the attempted escapees: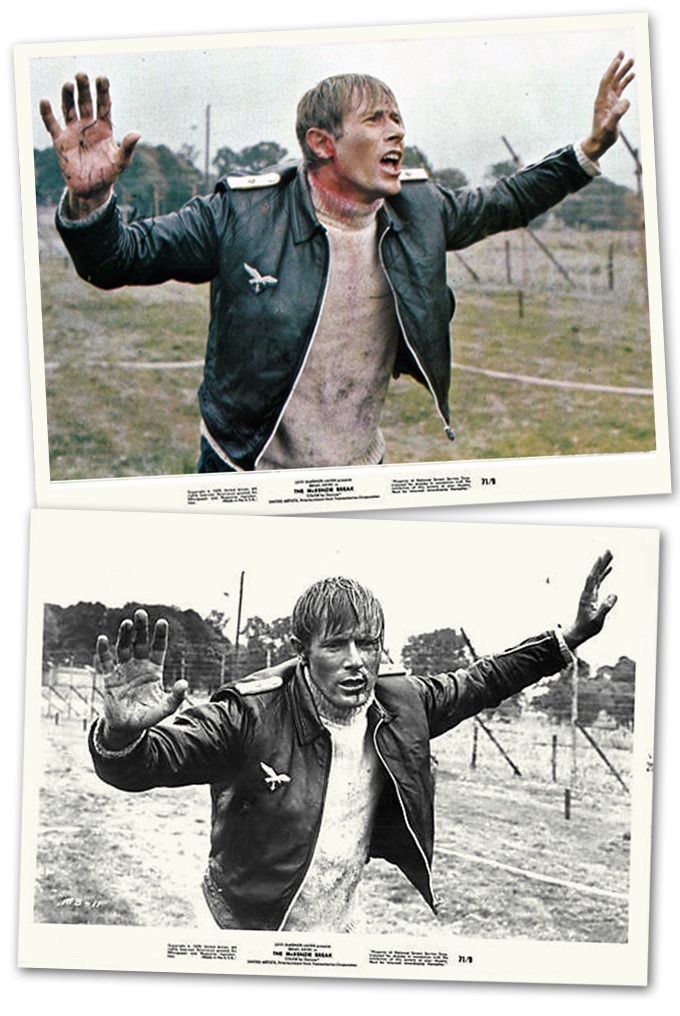 Above photos from The McKenzie Break
Lewis Leathers jackets have also featured in other movies such as Thunderball (1965), To Sir With Love (1967) Stardust (1974), Tommy (1975), 1979's Quadrophenia, The Good Father (1985 -worn by Anthony Hopkins) and not forgetting Star Wars (as worn by a big guy in black). Doubtless there are many more instances yet to be spotted, please let us know if you have information on LL appearences in any other films, we'd love to hear from you: info@lewisleathers.com